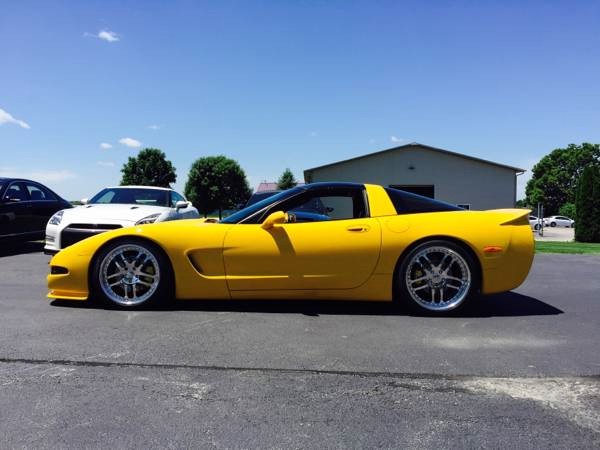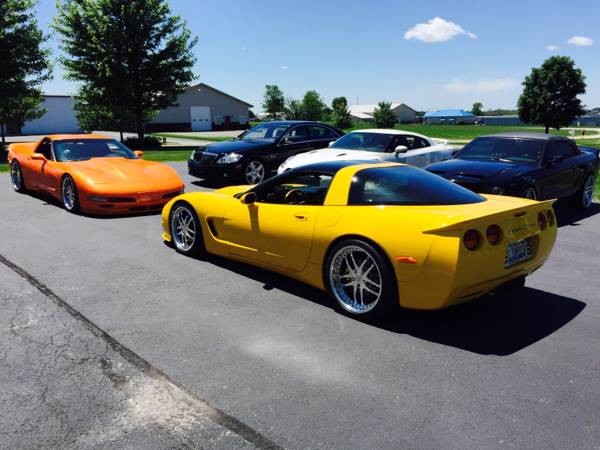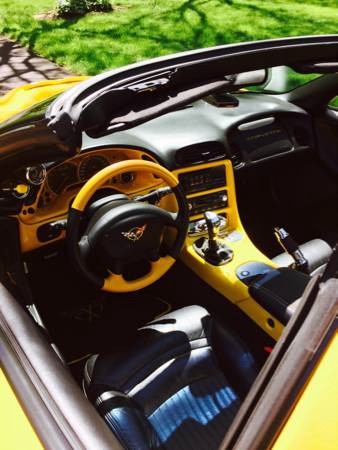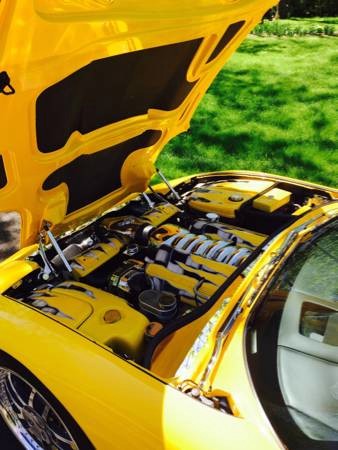 2001 CHEVROLET CORVETTE COUPE 6SPD
EXTERIOR MODIFICATIONS

ACI FRONT SPLITTER-450

ACI REAR SPOILER-450

MOTOR CITY MOLD CARBON FIBER HOOD-1800

WINDSHIELD COWL PANEL PAINTED YELLOW

19X9/20X10 IFORGED EVOLUTION 3PC WHEELS-4000

Z06 FOGLIGHT SCREENS-50

BRAKE DUCT SCREENS-50

AMBER EUROPEAN TAILLIGHTS-700

AMBER EUROPEAN SIDEMARKERS-50

BRAND NEW GLASS TOP-600

28% TINTED WINDOWS-200

PAINTED CALIPERS

CHROME PAD COVERS-100

ELITE ENGINEERING ALUMINUM TUNNEL PLATE-300

CUSTOM ENGINE COVERS & AIRBRUSH PAINTING-3000



PERFORMANCE MODIFICATIONS

LG G5X4 CAM (.609/.614240/244 111LSA)-800

TOTAL ENGINE AIRFLOW STAGE 2 5.3 HEADS (862 CASTINGS), DUAL VALVESPRINGS, TI RETAINERS, MILLED TO 59CC CHAMBER SIZE (11.7:1 CR)-1600

NEW LS7 CLUTCH INSTALLED 1K MILES AGO WITH SHORT THROW SHIFTER-1500

ARP HEAD STUDS-400

COMETIC .040 HEAD GASKETS-100

HD TIMING CHAIN-100

POWERBOND 25% UNDERDRIVE HARMONIC BALANCER-200

LUCAS 38# FUEL INJECTORS-450

FLP LONG TUBE HEADERS & X-PIPE-1500

GHL POLISHED SS CATBACK SYSTEM 4 TIPS-1000

BASE SUSPENSION LOWERED ABOUT 2, BUSHINGS CUT- ON FRONT ADJUSTING BOLTS, LONGER REAR- ADJUSTING BOLTS

Z06 SWAY BARS PAINTED YELLOW-250

BAER ERADISPEED SLOTTED/DRLLED BRAKE ROTORS 2PC FRONT, 1PC REAR-1200

CAR HAS MORE EXTRAS THAN ARE LISTED HERE, INCLUDING ALL INTERIOR MODS AND MOST OF THE PRICEY CHROME ADD ONS IN ENGINE BAY, AS WELL AS A RADAR DETECTOR AND SIDE PILLAR GAUGES (NOT CONNECTED)

OVER 20K IN PARTS

ONE OF THE BEST LOOKING AND SOUNDING C5 CORVETTES IN THE U.S. HAS WON MANY MANY SHOWS. THE CAR HAS BRAND NEW REAR TIRES WITH LESS THAN 500 MILES, BRAND NEW GLASS TOP ($600), AND THE CAR WAS TUNED WHEN THE CLUTCH WAS INSTALLED A 1K MILES AGO. THIS CAR IS TIGHT, CLEAN, LOUD AND FAST.

CALL TO SET UP AN APPOINTMENT TO VIEW THE CAR.


WE FINANCE/DELIVER AND SHIP WORLDWIDE!