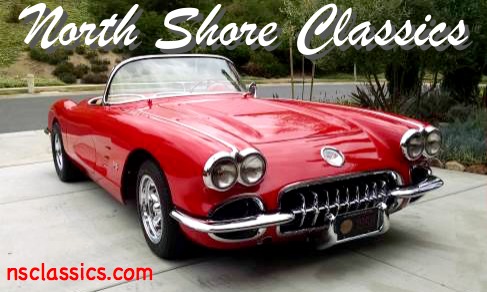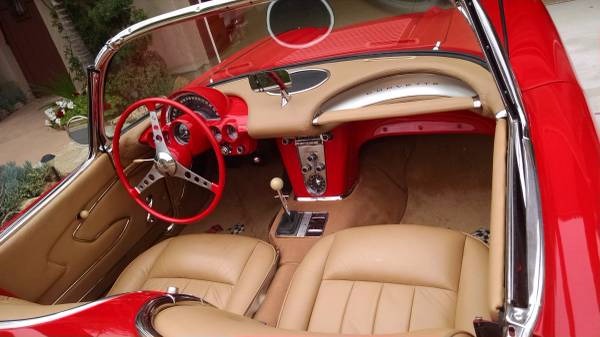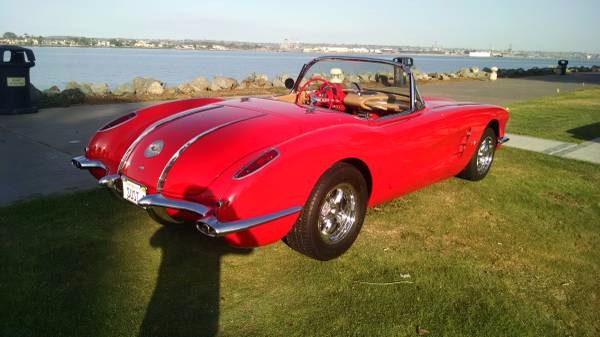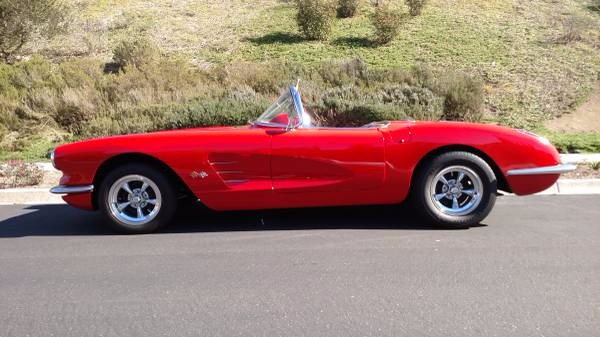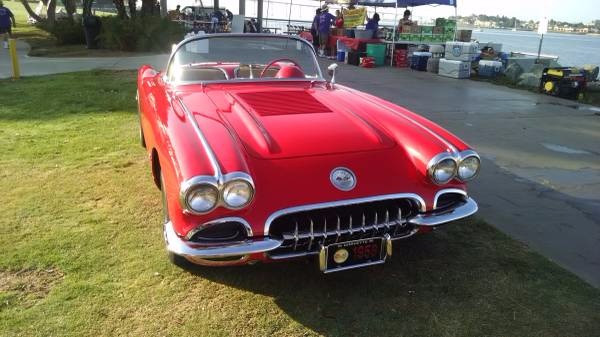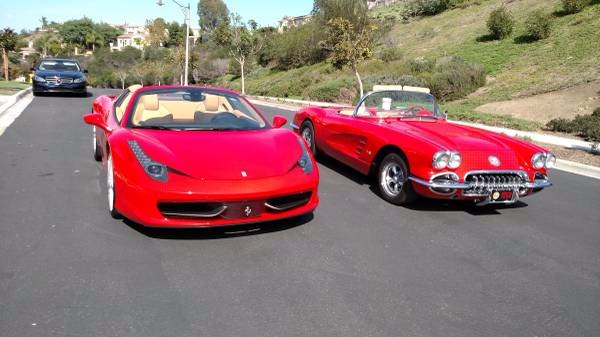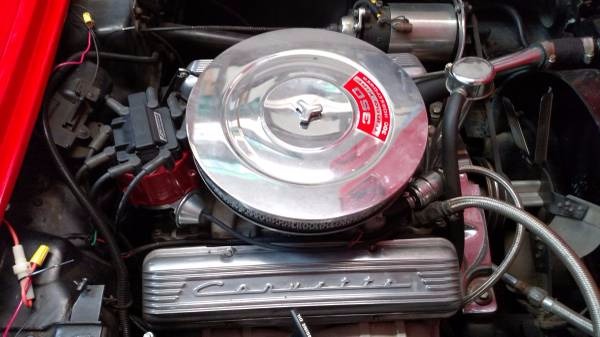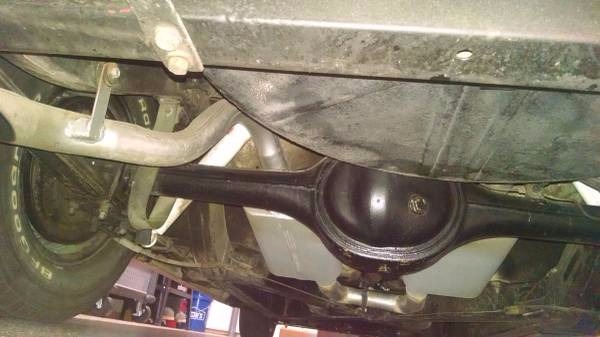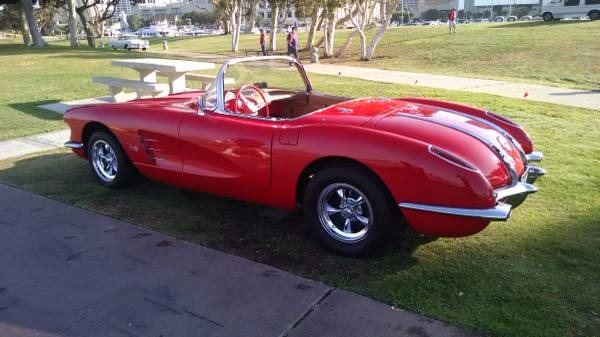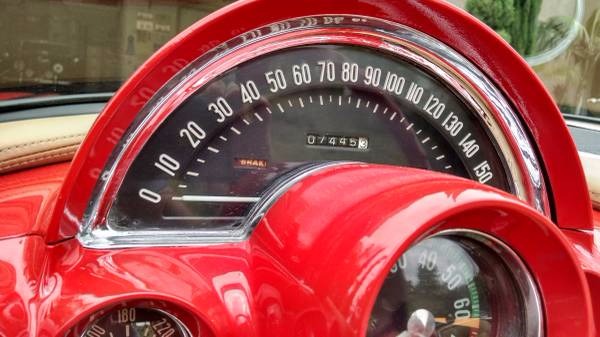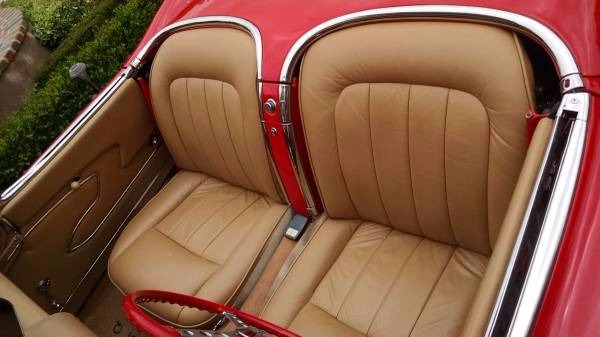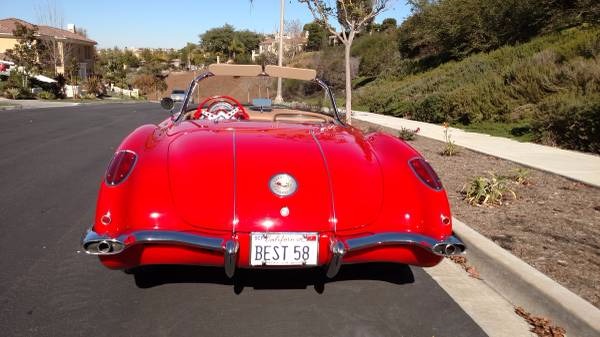 Just in 1958 Chevrolet Corvette, VIN # 8019116019, 12,400 miles, body style 2 door convertible, exterior paint color viper red not the original paint was repainted in 2012 in excellent condition, has soft top-fully restored 13k miles ago. MINT-

Trim chrome is in great condition, interior color tan not the original was redone in 2012 in excellent condition, headliner is in great condition, shifter floor, carpet excellent condition,speedometer/gauges working, heat/defrost working, AM/FM radio w/ CD Kenwood working,

engine size 350 was replaced in 2012 runs in excellent condition, engine has not been modified, transmission size 4-speed Muncie manual not the original trans was replaced in 2012 is in excellent condition,
The current owner purchased this classic from a guy who had owned it since 1998. He disassembled it and installed a new interior, new soft top, 350cc/300hp crate Corvette engine along with a new Muncie 4-speed transmission. That was a little less than 12,000 miles ago. The odometer was reset to 0 once the work was completed. He painted it a Viper red and removed the door handles and chrome around the coves. All of the gauges are there and in good working condition. The Wonderbar radio is there but is not operational There is a hidden am/fm/CD player installed that is operated with a remote clicker. That unit works great!

The current owner installed a new radiator, electronic ignition, 4-barrel carburetor, complete front-end suspension, break and fuel lines and 4 new tires and a battery.

Some photos and receipts/ invoices were kept

The Corvette is reliable and could not run better. The gears are new (12,000 miles ago) and are not noisy and there are no issues with the synchros. 2 years ago It was entered it in the Main Street America car show located at the Embarcadero park on the ocean near the San Diego Airport. The car won 2nd place out of over 400 automobiles. Trophy was kept!

OUR FINANCE RATES START AT 4.70% - TERMS UP TO 120 MONTHS + DOWN PAYMENT REQUIREMENT IS $6,700
WE ALSO DELIVER AND SHIP WORLDWIDE